Edvocator Superhero Direct Mail Marketing Campaign: Phase 1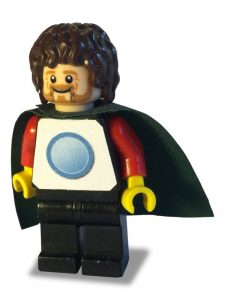 Cold emailing doesn't seem to work very well for a variety of reasons. First, email inboxes are swamped with real and SPAM emails. I find that it's difficult to come up with a catchy enough subject to get anyone to reply to my email. Second, SPAM rules can be a bugger if you're (which I am) sending emails from a lead record within a customer relationship manager (CRM) which am. After attempting to send a variety of different emails to potential schools and clubs, I decided it was time to use the direct mail approach.
The direct mail approach (I'm hoping) in today's electronically-flooded email inboxes seems like an effective way to get a potential client's attention. When an envelope appears in a PTSO or booster club's school inbox it has to be handled by whoever manages incoming email for the school and by the person who manages mail for the PTSO or booster club. At a minimum they must handle it. This doesn't translate into opening it, but I'm relying on a curiosity factor to get them to open the envelope. I printed the Edvocator logo as part of the return address and I hand wrote the school's address on each envelope. To increase the curiosity factor, I tri-folded the flyer so only the top shows with the Lego superhero character introducing himself. Would that at least pique your interest to unfold it? If so, that gets them to at least read the flyer. Additionally, the flyer is sort and to the point. Finally, I included 2 business cards that are also attention getting – focusing on the concept of not having to ask for even a single penny. While using direct mail logically seems to be an effective email alternative, direct mail campaigns have their challenges.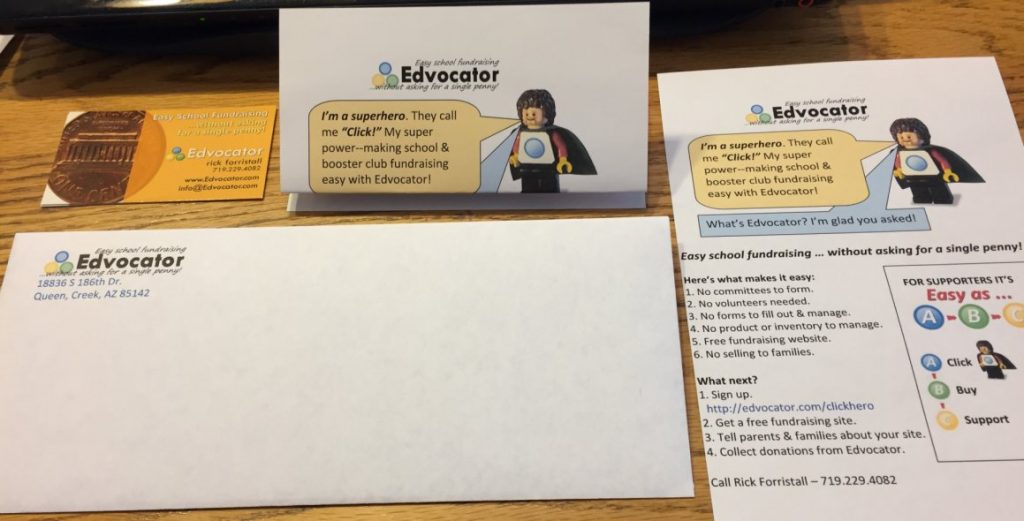 The challenge with direct mail versus email is time and cost—it takes time to print out your direct mailers, print out (or better yet, hand write) the envelopes and take the envelopes to the post office. There's also the cost of printer ink, envelopes, stamps and paper. Not a large sum of money, but for me, with an ever dwindling balance in my business account, a significant hit to the finances. Finally there's an opportunity cost with direct mailing—the time it takes to do all this is time you could spend do other things if you had used an email campaign. It's important to gauge if your marketing campaign is working.
To measure this campaign's effectiveness, each mailer will have a unique website URL where I ask the recipients to go. By having a unique URL, I can monitor the Google Analytics I have on the Edvocator site to see how many folks go to the site and sign up based on that URL. The first step I give the recipient is to "Sign up" and I give a URL that takes them to the sign-up page (each unique URL is an alias of sorts that points directly to the sign-up page). If (hopefully, once) someone signs up, I will have a good idea from which flyer they signed up. There are two final challenges I face with this marketing campaign.

I'm using a superhero themed campaign using three Lego characters I made into superheroes – each with one of the three colored dots that make up the Edvocator logo. My wife suggested that maybe these were a bit 'young' for elementary schools and high school booster clubs—and I feel like she may be correct. But, I'm trying for to produce a curiosity level to get them to want to read more, so I decided to try out a three-phase approach to the campaign. This will consist of three separate direct mailings where each mailing will focus on a separate superhero. The risk of using this superhero approach is that Edvocator and I will not be taken seriously. I'm hesitantly willing to take that risk…hold on, we'll see what happens. An extra challenge when doing direct mail marketing from a home business on a limited budget is the quality of the printing.
While I have a high quality ink-jet printer and high quality paper – it doesn't match the professionalism of a laser-jet printer done at a printing shop. That is another risk I'll have to accept because I simply do not have the funds to print at a laser printer shop.
So, here I go with my first direct mail marketing campaign. I'll do some tracking and write a follow-up blog article discussing the actual effectiveness of this entire process.
Save
Save
Save